Some things I learned on my longest ride to date this year:
I'm in better long distance shape than I've been giving myself credit for. Yes, I'm still 20 pounds over my ideal event weight, and I had a tough winter with adjusting to fatherhood and medical issues – but I've dropped 22 pounds since the holidays and I've been consistent on the bike for the last 3 months. Cruising speed needs to come up – but overall 'get it done' at all costs stubborn endurance is there.
I (will always) need to improve my climbing speed. I've been holding off on adding too much intensity to my workouts for fear my 'base' wasn't large enough. I think I'm there. Time to put the hurt on 2 days a week with tempo and hill work, saving my weekends for the long stuff. Irish Hill, Bolton, and short bursts up Depot St. – here I come.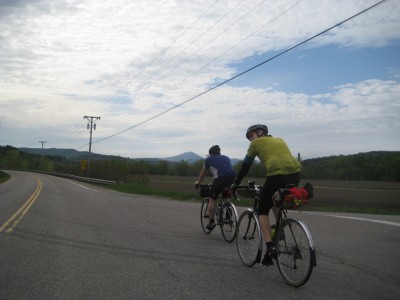 Nothing really hurt. There was no time on the ride when I needed to stop and solve fit or contact point issues. I had some minor saddle irritation that was helped with a change into fresh shorts, my hands were good with minor numbness if I hung out in any one position for too long, and my feet were comfortable (if wet) for the entire ride.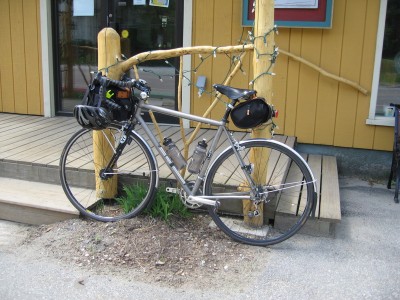 Clif Shot Bloks – sometimes they work, sometimes they upset the tummy. This ride I think they were part of my distress climbing to Killington. They gassed me up on the 200k as well – a ginger ale solved that issue. These will move from 'go to' to 'emergency only'. I downed 2 packs of these within 30 miles of the end – knowing we didn't have time to stop for real food and they do work…
Clif Mojo Bar – Peanut Butter Pretzel – I discovered this on my solo 300k through the Adirondacks last year. Winner for overall best bike food – tastes good and stays down. Four of these propelled me over the 24 hours – I could have used another two.
Lantiseptic Skin Protectant – it is a rear ends best friend. Of all the potions, creams, and goop that I've tried – this stuff works. Yes – I'm trying to get away from padded shorts on long rides – but if its wet, and if I'm uncertain about comfort, setup, conditions – the Lantiseptic goes on. Add a bit of Assos to the pad – and I think I have a winning combo.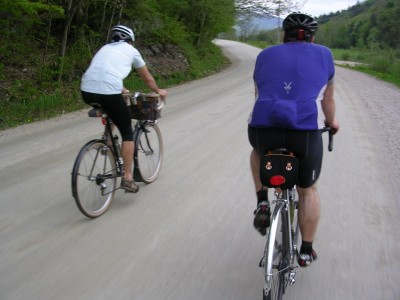 Acorn Boxy Rando Bag – a great addition on the Mark's Rack. It was nice having access to food, arm warmers, camera, etc. – all right up front. I did not do enough navigating to need the map case – but it does get wet inside, and as I learned on the 200k – it does not fit an 8.5×11″ cue folded in half. I had to tri fold and clip the edges. Not a deal breaker – but a bit of a pain. I liked the map case on my Ortlieb more – I might have to retrofit some snaps to the Acorn. Not having a decaleur (VO is still out!) didn't affect things all that much – with a rando load of food and clothes up front the bag was stiff enough using the cord ties to the handlebars. Not ideal – but workable.
Acorn Medium Saddle Bag was a great addition to the rear- we carried extra clothing (bulk) – and having the luggage to do it made the ride that much nicer. I kept my tools, spare tubes, mini first aid kit, and night riding gear tucked away. I had more room if needed, and the rear flap can snug over a jacket or base layer. There are also rings for lashing to the outside, and the leather tailight clip is just perfect – couldn't ask for it to be in a better spot. I think this will be a perfect bag for 200k and century rides – and currently is still on the bike.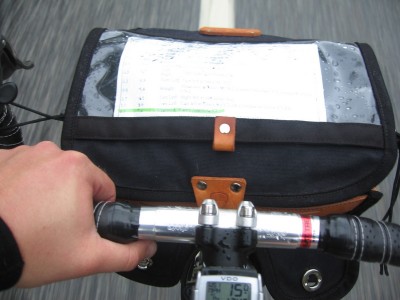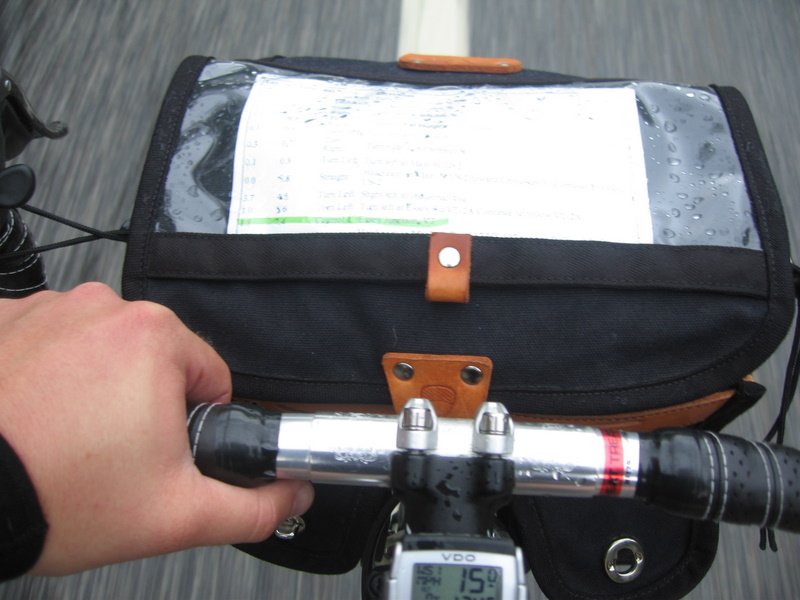 Edeluxe – what a light. Not sure what else to say. Glad I dropped the bills for it. Rain, country roads, high traffic roads, 30 mph descents in the rain at night on country roads – it does it all. I ran it in senso mode with the overcast skies and can say for sure that it is bright bright as I watched one of my teamates roll up at dusk. If the rack comes off, the light will go back on with my Terracycle mount. It is too convenient and bright to keep off.
Ixon IQ – I lent my battery powered Ixon to Jim – it was bright enough – but he complained of descending in the rain. Not sure if he ran it full blast or if he needed to fine tune its position (something I did with my Edelux mid ride) – but I've found that in a winter of town use and spring mornings on the rando bike it is very serviceable as a do all light. Not quite as bright as the Edelux – but damn near close if you don't want to run a SON hub.