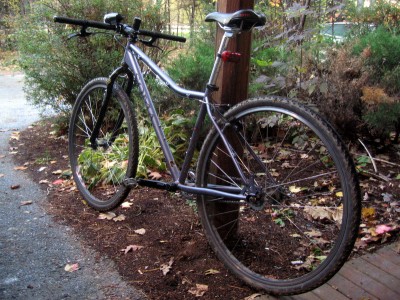 New monstercross / bikepakcing / ss fg mountain bike platform. Soma Juice 29r in 'midnight silver' (dubbed the 'grape ape' by a Sunday ride friend). I retired and traded off the CrossCheck and did a parts transplant. I've also cleaned out the garage and am selling off parts and pieces and bags and gear to fund this adventure.
I'm still awaiting parts for front disc brake wheel build. Trying a Surly Mr. Whirly crank… which has really wide Q compared to the CrossCheck (now retired) and my IF rando rig with TA cranks. So far I'm not a happy camper spinning when I feel like I'm riding a horse. Strain on the outside of the knees, sore hips. Might have to go to a Sugino XD or something…
Playing with the gearing – currently running a single ring with fixed dingle cog – but will eventually settle on a dual dingle + freewheel setup. Soma Odin bars (wide!) and taped for now. Awaiting some WTB Nanoraptors to get some fat rubber on there. Silver seatpost is a loaner till a Salsa arrives. Steerer tube is left way long… but I'll probably be able to keep the bars dropped tight to the headtube. Need to add another cm to the stem, probably settle on 12 cm with minimal or no rise.
Love it so far. Aside from the color, which was listed as 'midnight silver' – but is really a purple(ish) silver. It is growing on me, and I should just STFU and ride.