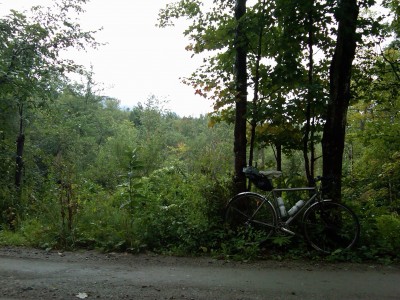 Course checked most of the 114k Fall Classic route on a wet, rainy, and muddy day. Slow going in some parts with all the water we had flowing… but good fun to be out on the bike. Modified the route as I took off and returned from home. ~3800 ft of climbing (by altimeter), average grade of 4% with max grades (several!) topping out at 16%. Lots of high single digit grades on dirt (short, sharp climbs) – and some double digit grinders. The wet slowed me down – but I still pulled out ~80 miles for the day. If we get a wet spell prior to the big day I'll be running some 32 cross tires on the IF.
The first photo in this post is from a spot Thompson Rd., just as it turns to a single lane for a great descent. On clear days it looks like this.
This was the last ride for my current drive train components. Big ring is shark finned, chain was finished about 150 miles ago, rear cassette is showing its age in the middle range. I am debating running an 8spd setup on the rear – using my Ergo 10 lever to pull a Shimano rear mechanical over an 8spd cassette. Cost of keeping up the 10spd is pretty high when playing in the dirt…!