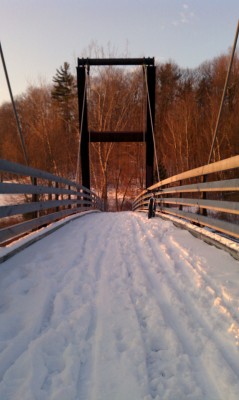 Great Day on the Pugs. Logged ~32 miles. We had a short section on road getting back to the house so Wil could take out the Soma in the snow – but the balance was the Intervale, some single track, plenty of bike path, and two different stretches of beach. Had full immersion of my feet on the beach getting around some high water – but I was close to home so the cold was more of a shock than anything I had to worry about.
I'm pretty close on the cockpit setup. Went back to the stock Salsa bar, adjusted the tilt and moved the levers. Went with a longer stem from the stock bike.
Lesson learned today: Railroad tracks under snow are very slick, especially when hit at an acute angle.