-8dF this morning. Local single track, lakefront bike path, and woods. Funny how 4 months ago 28dF was cold. Bodies adapt and acclimate.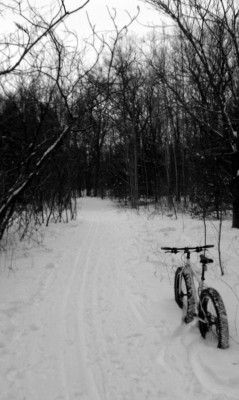 Local single track, 5 minutes from the house is in great shape. Someone set classic ski tracks and an army of snow shoers has stomped down the sides of the wider trails. Narrow trails are hard packed, twisty, and fun. The last two mornings I've been working to clear every (short) little climb. Figuring out the gearing choice as well as momentum and position on the Pugs has been an adventure. I've pulled the monkey nuts and gone back to the wheel pushed all the way forward in the drop outs – it shortens up the chain stay length by 1/2″ +/- and it improves handling and climbing in the woods.
Hopeful that I'll get a ride in the ADKs this week… looking at Moose River Plains (PDF map). With temps dropping all over the Northeast existing snow pack should harden up into a great base.