Managed 47 or so today with Wil. BTV to Richmond and to the fine On the Rise Bakery as a destination / warm up stop. (note to self – next time do not order bacon here….)
Temps were in the mid 30s with rain coming down most of the morning. Outbound we passed a steady stream of broken beer bottles on the side of the road. Eventually one of them bit me – so we stood standing in the rain and slop in Williston to do a change. I was thankful for wrapping my spare tube in a pair of rubber shop gloves – minimal cold mess on the hands. A small sliver of glass worked its way through the casing – so some hunting was needed. After a remount and a blast of CO2 – we were rolling again along the semi-frozen Winooski River.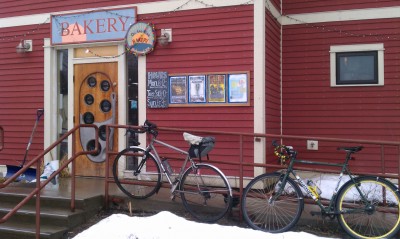 Wil is riding strong, and pushing his studs on a bike with an 8spd internal geared hub he left me in his wake numerous times. He'll be more than ready for the upcoming brevet series, and if he keeps this up he'll be in prime form for his attempt at the 2012 Tour Divide.
Me – I need more work. The legs felt sluggish, and I needed to hit my inhaler at our cafe stop to settle down some coughing and a mild asthma attack. I've been battling a cold / sinus bug and its been challenging to stay active while it works its way through my system. Last spring I ended up with pneumonia just before one of our VT brevets. I'm trying to avoid that this year. I've managed my most consistent base in quite a while this winter (thanks Pugsley!). I added yoga to the mix last fall and have been back at it on a regular basis (Friday mornings!). The most promising change of all is that my weight is down ~25 pounds since this photo was taken on last years Fall Classic: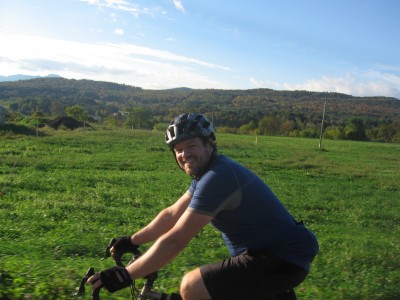 That's not to say I'm floating up hills like I used to, nor chasing down friends as they pull away from me when the terrain turns up. Not even close. After I get through our first VT 200k on April 9 I'll shift from 'base' to 'intensity' – I need lots of consistent sustained hard efforts. Repeated stays in the pain cave was the only way I got semi fast (still very slow compared to the racer boys and girls) back in 2006. Its the only way I see being able to attempt BMB in August.
And an important update – after three weeks it appears that the lonely baguette has met its demise.