Not so fast Spring. Winter hit back with a vengeance today. Morning started @ 45 dF with a bit of wind and misty rain. I took off for City Market to meet Wil for what hoped to be a long(ish) road ride before the weather turned. The lonely baguette has some pretty amazing endurance – it is slumping a bit, but still going strong.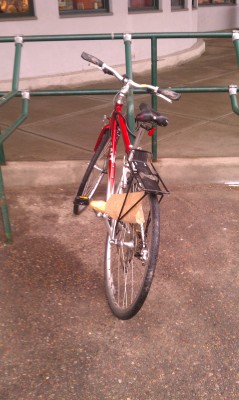 The mild temps and rain derailed quickly as we took off south (into the headwind). Temps plunged 3 hours before we thought they would. The rain poured down and the wind shifted around from the south to out of the north, and began blowing something fierce. We went outbound on Spear, heading to Mt. Philo. A quick discussion and a detour across the wind took us to the Red Brick Store to warm up. I added some plastic bags from the deli to cover my soaking wet socks and we rung out hats and gloves over coffee and some food.
Pulling out into the wind on Greenbush and I felt signs (mainly a feeling on my face) of the pouring rain turning to sleet. Turning up Bostwick confirmed that the changeover was imminent, and we worked through Shelburne to head in on Rt. 7, at which point Wil pinch flatted Nokian studded tires. We sheltered under an entryway at a nearby business and proceeded to curse the internal hub, the fender, and the tire that would not let go of the rim. I proceeded to shake violently in the cold and the wet. Perfectly warm while riding – but I was wearing every layer I brought – and they all were soaked. Teeth chattering commenced promptly.
I called for extraction, and a very understanding wife and little one rallied to our rescue. We retreated to a nearby cafe for hot tea, and waited for a very warm automobile. Upon loading up the bikes sleet turned to full on snow storm.