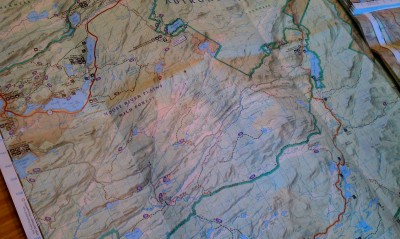 Planning a ~230m mixed terrain tour, from BTV to Moose River Plains (I rode the Pugsley here last winter) and then south to the Utica area to hang with family for a weekend. Staring at maps, downloading GIS data from the NY DEC to ponder in GoogleEarth, and generally day dreaming.
Fargo, bikepacking gear, 1 or 2 nights depending on how much 'mixed' terrain I can connect. Right now I'm thinking pave and dirt road to Indian Lake, then Cedar Lake road to Moose River Road, connecting to the Otter Brook truck trail.
From there we have options – ride west connecting back to Moose River Road and connect to NY 28 near Limekiln Lake, then pave south to the Utica area, or, just maybe I'll feel up to an 8 mile carry on a footpath through a wilderness area to connect south to some more dirt. I'd have to come up with a way to put the bike on my back*. Maybe like this, or like this, or even this. With the hike I'd exit somewhere near Rt. 8 in Piseco, where I can connect to NY 10 and then Powley Rd.
Torn, and scouring maps to see if there is anyway to make some other connections work, to get to ride the length of MRP, then head south, and maybe connect over on some supposed hike and bike trails in the Black River Wild Forest, and get to ride Powley Road. I've done a single day double century (all paved), and I had an aborted attempt to mix in some dirt and gravel roads – so I'm hoping to mix in as much dirt as possible this time around.
*Bikes are verboten in Wilderness (I won't go into how I feel about human powered transport in the wild here) – so I'd have to get the wheels off the ground and be sure it was obvious I was 'hiking'. If I did the hike, I'd then hit more dirt road, with less touristy paved routes as I work my way south.