I rode the VT Fall Classic Populaire this past Saturday. It was cold. It rained. The temperature dropped. We were hit with a deluge as we took off up the Notch from our first control towards the mountains and one of my favorite roads. It was windy. Did I say it rained? Dirt was in fine shape, if not soggy towards the end. The mountains were hiding in the low clouds. Fall color will peak in another week or so, but was a wonderful contrast to the gray along the route.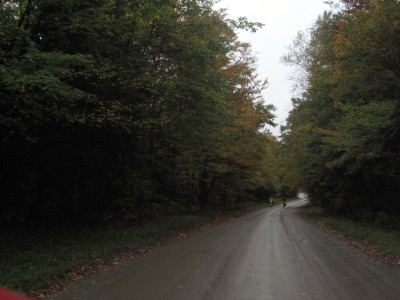 I'll let the numbers tell the story:
200k
Pre registered: 11
Did not start: 4
Did not finish: 3
Finished: 4
114k
Pre registered: 10
Registered day of: 3 (brave, to show up morning of!)
Did not start: 5
Did not finish: 5 (completed entire route, but well out of the time limit: 4)
Finished: 3
First 114k finishers in @ 7h20m. (I was lanterne rouge and finished in 7h30m)
First 200k finisher arrived in an amazing 9h30m, which was an incredible ride, under these conditions. A group of three riders made it in just under the time limits @ 13h25m.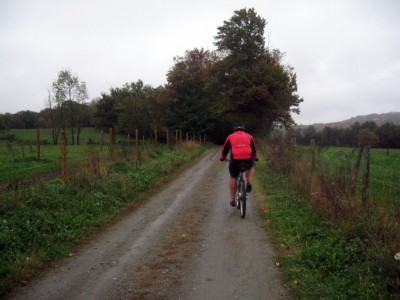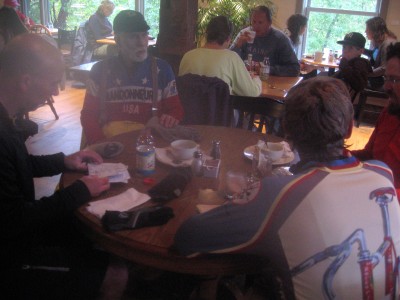 I focused on keeping moving to generate heat, and forced myself to drink. Food went down easy. Liquids were tough. The camera stayed tucked away for most of the ride – impossible to operate in my overmitts, and tricky at best in my liner gloves.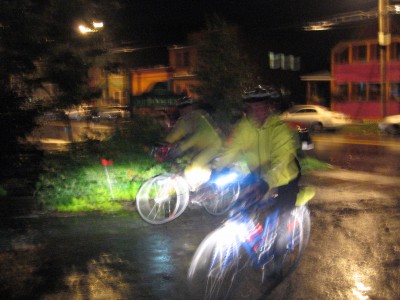 I've done this ride, and similar loops, many many times, and am always reminded at just how beautiful my neighborhood can be.