My parents visited our fair state last week for some family time with their granddaughters. Ava and I spent one night with them down at the local city campground. We did a small fire in the 90d heat so we could enjoy some roasted meat and marshmallows, then took in the sunset with a swim in our almost great lake.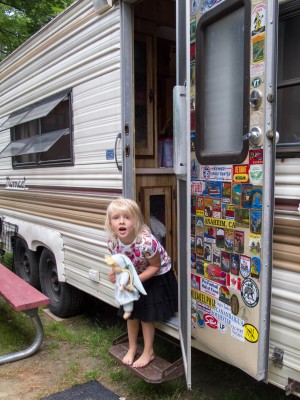 Mom and Dad are still traveling about in their 26 year old tow behind travel trailer – the same trailer we spent many many many a summer vacation. Sometimes we did numerous short trips to nearby state parks camping with scouts or friends and family, other times to take in yet another historic site, civil war battlefield, or beach. Up and down the east coast, the beaches, Disney World, Cape Canaveral, and up into Michigan, the UP, Wisconsin and over to and Niagara Falls and Canada. Two of my most memorable trips were down through the Skyline Drive and Roanoke, Virginia to visit my mother's cousins, and a long road trip out west.
The trip to Roanoke introduced me to mountains and the Appalachian Trail. My mom's uncle, complete with German accent, hiking pole, and Birkenstocks took us on many day hikes to small lakes and scenic vistas. He was involved in the local AT chapter and would inevitably end up a few hundred yards up the trail from us flatlanders. We would find him admiring the view, checking out some flora or fauna, and often he would be pruning overgrowth, clearing downed limbs, and inspecting a footbridge or two. He also gave me a hardbound book about the AT, which I spent many a summer reading and re-reading, dreaming of mountains and long adventures under my own power.
The trip out west was an eye opener, inspiration and a test of patience all rolled into one. The family of 7 (a brother, three sisters, mom and dad) packed into large Chevy passenger van, pulling the loaded up 24′ Nomad behind us. I was an unconfident boy – maybe 17 at the time and recovering from some reconstructive surgery on my leg – so my 40 pound Huffy 'mountain bike' came along for therapy. I had just started running again to get back into shape for high school soccer and track. It was the first trip where I would take off for a bit of my own space for a short ride, run, or hike. I remember vividly the Grand Canyon opening up in front of me when I wandered out for a run…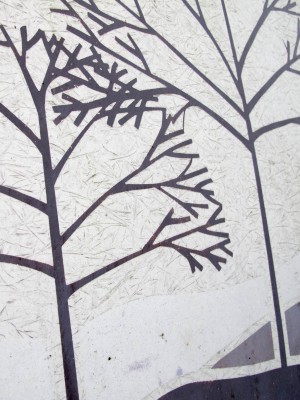 We left Cleveland probably days after school let out for the summer and made it to St. Louis in a day, went up and over the Arch. Then on to Oklahoma and Texas where we had tornado warnings, thunder storms, and hail every night, while camped in a noisy aluminum box on wheels. We saw a twister zipping up and down about 2-3 miles south of us one day on the interstate, thankfully heading the other direction. Our first 'scenic' stop was at Painted Desert, and then up to the Grand Canyon where my Aunt from Vegas flew down to meet us. We hiked to 2 mile corner, but I longed to go to the bottom and back, but was denied by the parents. Hoover Dam, Bryce, Zion. North Rim too. Then on to LA, California to visit mom's cousin, put our feet in the Pacific. Toured Hollywood by bus. My brother, a big sports fan at the time convinced my dad to buy Dodgers tickets, so the boys went to a ball game. Then Yosemite, redwoods, and on over to Vegas, where we stayed a few days with my aunt. She pointed us to downtown and said have fun – as she preferred the desert to the strip. We visited Circus Circus and was surprised to see slots in the 7-11s. Crazy world out there.
From there I think we cut through Salt Lake City and then over to Yellowstone, the Grand Tetons and Jackson Hole. The pattern of the trip was for staying just long enough to get a flavor of the place, take in the big tourists sites, and get out. At this point I wanted to hike and climb everything in sight, which was not happening with the entire family in tow. The age spread was me down to 4 years old, and mom and dad weren't the athletic type – but they did enjoy a nice walk in the woods now and again. I had serious thoughts of running off to live in the mountains – I just wanted to stay in Wyoming. So much to see and do in Yellowstone and the Tetons – we barely scratched the surface.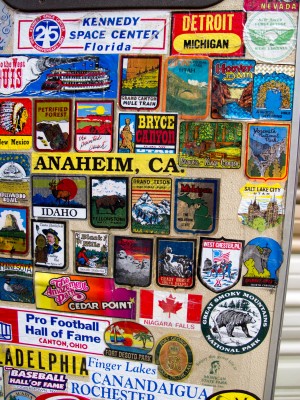 Cutting back across country we stopped at Devil's Tower, then Mt. Rushmore, Custer's Last Stand, Crazy Horse, and some air force base with 24 hour standby bombers. Pre-9/11 the base was open for tours, and you could stand at the fence line and take all sorts of pictures – having a B52 fly low over your head practicing touch and go landings was pretty crazy.
In all I think we were out 5 weeks – there were no homicides, but plenty of arguments about who was going to do dishes, what we were going to see, and how long we had to drive that day. Returning home I eventually settled back into my life in the eastern midwest. But I never forget the mountains, the vistas, all that terrain to explore. I haven't been back to Wyoming since – but I have had work trips to Salt Lake, Park City, Aspen, and the Denver metro area. Each time I leave inspired, hoping to spend some quality time in the western mountains again some day. I'm pretty sure those early adventures were what led me to Vermont…