Stepping back just a bit…
After multiple sessions of serious ass kicking while mountain biking with some coworkers, I realized I needed to take better care of myself. I had moved from field / shop work crafting timber frames (and other woodworking projects) – to sitting at a desk pushing pixels as a designer and project manager. I also went through a separation and divorce, and entered a bit of a black hole of Guinness drinking and bar food eating at an all too convenient pub, about halfway from the office to where I was living. The good news was that I still felt like I could ride, and really wanted to. The bad news was that I was taking on my own projects for friends – so I would manage and design during the day, and design and craft at night. For awhile I had been renting bench space in a nice shop with a local craftsman, in the scenic village of Honeoye Falls, NY. The shop was nice – warm and light, but in the opposite direction from the office, and from where I was living in Rochester. By chance, a coworker / friend had just gotten his CofO for the house he was building, and his girlfriend at the time decided not to move in with him – so he needed a roommate / renter. He also had 2 bays of his garage that he offered as part of the deal for shop space. And he lived on ~13 acres overlooking Canandaigua Lake. Ideal. For less than I was paying for a 2 bedroom apartment in the city. So I broke my lease, moved my tools and (very) limited furnishings and computer out to a very scenic, amazing little house in the country.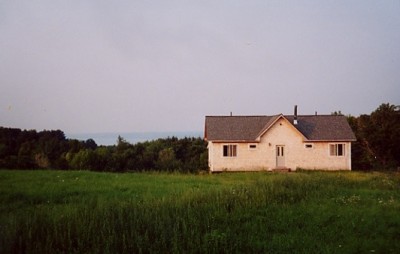 After some more 'mountain' biking, which was glorified hiking, wrecking, and full on pegging of my cardio – I really wanted to start riding again. I picked up a Trek X01 cross bike on clearance at a local Rochester bike shop and started doing a 'half way' commute. Truck would be parked at the end of Canandaigua Lake and I would make my way up Rt. 332 to the office. It was about 8 miles of divided highway riding. Huge shoulders, just a bit of town traffic, and then a coffee stop and a walk over to the office. Several folks were commuting, so a shower had been put into a storage closet, and folks would stack up bikes on the front porch.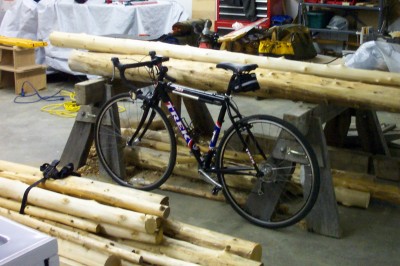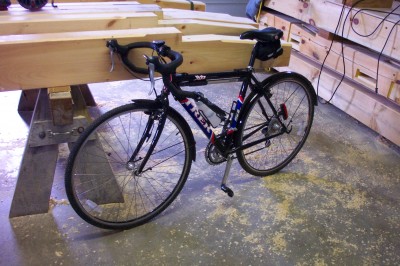 The Trek was twitchy, a size too small (but a good price, for a 'real' bike), and aluminum. I rolled on the stock semi knobby cross tires for a bit, then put on some cheap and nearly impossible to mount off brand commuter tires. Added some SPD pedals and fenders, and had a decent commuting rig.
All the while I was doing the half commute I was doing design and project management by day, and some fun projects for friends in my own shop at night. Day time would find me sitting at a desk, on the phone, programming a CNC machine, or losing my mind working on 3d CAD models. Night would find me riding home (halfway) and working with my hands – cutting joinery, building a small piece of furniture, generally getting dirty and dusty.
One of the more memorable projects was at a camp in the Adirondacks. I took a few long weekends (and many late nights) and cut and installed a set of log railings. Everything went over by boat – logs, tools, people. I camped out on the front porch or just inside the living space while working on site. Good friend Chris came up for a long weekend and helped out. Priceless guy time working to the call of loons, eating meals cooked on a backpacking stove, and drinking cowboy coffee watching the sunset on the water.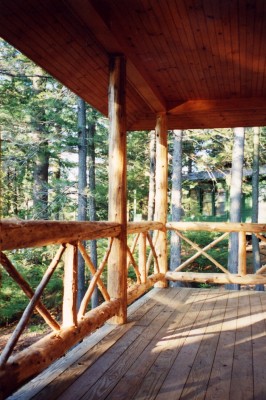 I was also 'the single guy' in the office – so I'd often take on the travel duties for New Energy Works. I drove all over the east coast for projects – Greenwich Connecticut, New Jersey, Hudson Valley, even a job in my native Cleveland. I had a memorable trip for a forgettable project to the Aspen, CO area. We were working on a guest house for a prince that skied in Aspen, and I was project managing the timber components with a local builder. The job was difficult – tricky architect, really good engineer (offered to hire me while we were touring the job site), good builder, horrible construction manager… etc. The builder and I pulled our hair out and all the stops to get things done – so in appreciation he set me up with a fly fishing guide. I caught and released more trout in 3 hours than I had in all my time fishing back east. I actually climbed out of the water an hour early and told the guide I was done. Sort of bored. Every other cast landed a fish. Our local sales rep took me on a few cool hikes while I was in town, and we did the local tour – past Hunter S. Thompson's house, through a few projects we'd done the year before for people who fell into the 1-2%r category, and dining out at various renowned establishments. Good fun, and the job offer was tempting – especially the chance to be in the mountains – but what a crazy world Aspen is… if I had a trust fund I might have said yes. But I had many reasons to stay out east.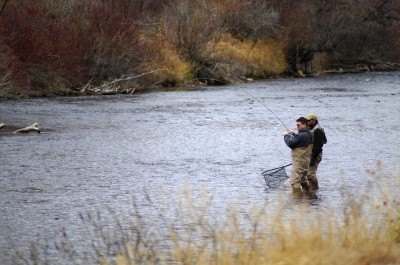 As I gained some fitness I started looking for a mountain bike. I shopped around and tested various brands, and knowing nothing really about riding in the woods I weighed the need for suspension. A friend who rode quite a bit suggested front suspension only – better climbing, and I'd learn bike handling skills. He also suggested I shy away from disc brakes unless I went all in with hydros (this was 2003-2004). I found a Yeti FRO on closeout at a local upstate NY shop and brought home a very nice, very light bike. 26″, disc ready, aluminum. Blue. All the while I was getting my weight under control, and was moving closer to 210 pounds. Diet, exercise, focus. And burying myself in work.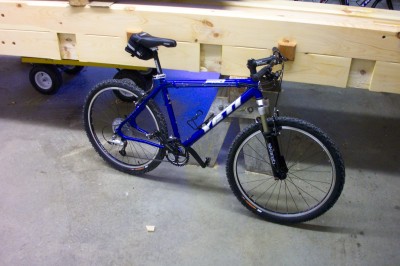 From where I was living I could ride out the door on the property, hit up 2-3 trail networks within 15-20 minute drive, and venture off into the woods further afield. I made it a goal to ride up from the parking lot on our weekly mountain bike ride – and actually did that twice – once as a dry run to see how long it would take – and another time with one of the regular riding group who was training for the Vermont 50.
In the midst of rediscovering the bike, I was also working on a large project for a friend. I was hand cutting a timber frame barn, which would be erected in Ohio. There were 151 pieces, about a half of a tractor trailer load of materials, and lots and lots of work. To family and friends it seemed I disappeared for a long while. I would ride half way to work, put in a full day or more, ride back to the truck, drive home – usually grabbing a bite to eat or something to jam in the oven – and then do layout until the wee hours. Repeat 5 days a week. On the weekends I would do a long mountain bike ride or hike, and then cut joinery until well into the evening. Sometimes into the early morning. My roommate / friend spent much of his time at his girlfriend's place – so I pretty much had run of the house.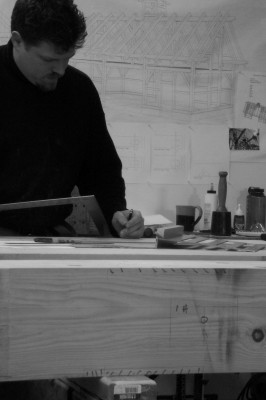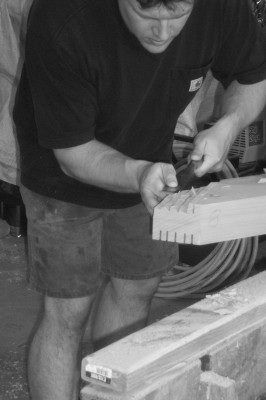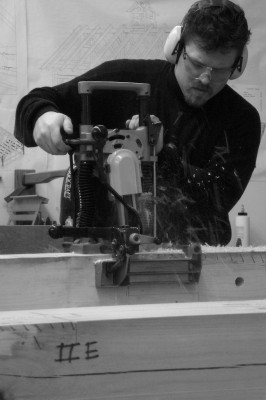 I figured out a ton of stuff when working solo – logistics of stacking large heavy objects for moving and working on by oneself, how to get a shop flow going so I could minimize the heavy lifting, and effective ways to manage layout and joinery, and keep my head sane with all the work I had to do.
I entered what friends dubbed my 'craftsman warrior monk' phase. Ride a bit, work all day, ride a bit, work most of the night. Mix in long solo hikes or rides or XC skiing. Repeat. It was good fun, and good for my mental health. I was single, recently divorced, had very few friends nearby, and really wanted to explore my capabilities as a craftsman / designer, as well as get in sync with my body again.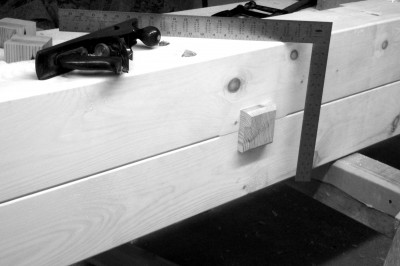 Eventually the inevitable happened while on the mountain bike. After working in the shop most of a Sunday I took off for a ride right from the house to the Stid Hill area. I didn't bring the cell phone (would have been useless), and I don't even remember carrying a wallet. I rode some gravel and dirt roads up to a trail, and started climbing. Typical of western NY this was full of rocks and roots – I could have been riding in a creek bed. About 20 – 30 minutes into my ride (all uphill thus far) I spun out on a slab of rock. I was moving about 2-3 mph uphill. I went down, harder than I could have imagined. My left knee hit something really hard. My right foot was still attached to my bike, and I wriggled in pain to free it. I immediately grabbed for my left knee, and had blood streaming down my leg and all over my gloves.
I figured I was pretty much screwed, but with some effort I was able to stand, and I hobbled to the top of the climb, another 1/8 of a mile or so. I opted to walk off the trail and get to a road. My knee was gashed open, and I imagined that I would slowly fill my shoe with blood. Upon getting to the road I had maybe 1/2 mile to the nearest house – so I tried to get on the bike and coast / pedal with one leg. Surprisingly this worked quite well, and instead of stopping I rode downhill on the road back to the house, where my roommate was having dinner with his folks (who owned the house on the edge of the property). I interrupted, asked him if he could drive me into town to the ER, and I refused to move from behind the cabinets as his family was entertaining guests, and food had been served.
He met me down at the house, and drove me to the ER. The triage nurse scrubbed everything clean (hurt like hell), and wrapped me up for the waiting room. As I was sitting the shock and adrenaline wore off and the pain and throbbing moved in. And then in slow motion I watched two ambulances show up at the same time. Car wreck and heart attack. Unrelated, but the triage nurse smiled and suggested I get comfortable – I wasn't going anywhere, anytime, soon.
By the time they got me in front of a doc it must have been midnight. The doc on call got some pain meds in me, and wanted a second opinion from the orthopedic on call. I was sent off for Xray, and then more waiting. Ortho doc eventually made it down from the hospital and said I was very lucky – another 1/2″ to an 1″ further up my leg, and I would have likely severed some connecting tissues, or cracked my knee cap. They decided to stitch me up, and it was now coming up on 1am. My pain meds were wearing off just as they cleaned and prepped me, so I had the option of waiting about 1/2 hour for more meds to come down, or they could finish the job and I'd be on my way by 2am. I opted to get it done, sans a local anesthetic, and remember not so much the stitching, but the squeezing and pulling on the gash that hurt the most. I used crutches to get to the waiting room, where my roommate was asleep in a chair, and the whole place was shut down. Security let us out, and I came home to sleep away the pain.
I was off any bike for awhile, and it took a good long time before I rode a mountain bike in the woods again. Pretty sure it was like 3-4 years, at least. I got back on the commuter as soon as I could, and eventually did the full commute from the house, on my birthday. It was about 18 miles one way, so I would nab a 36 mile ride every couple of days, until the winter rolled in. I had a laughably underpowered light for the 2 mile 8% descent down to the lake – but I made it all work.
I finished the timber frame project the following summer. I took some vacation time to stage everything in Ohio, and had a family / friend raising, complete with crane, music, and picnic afterwards. My dad was indispensable help, and my friends Chris and Hap provided some much needed carpentry and climbing skills for getting the high work done.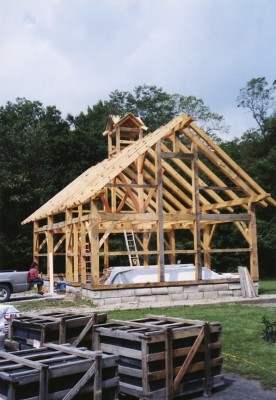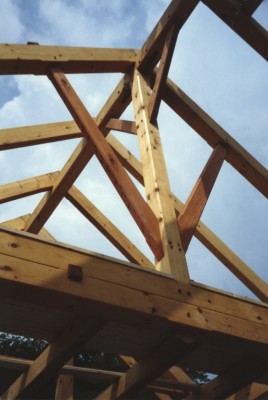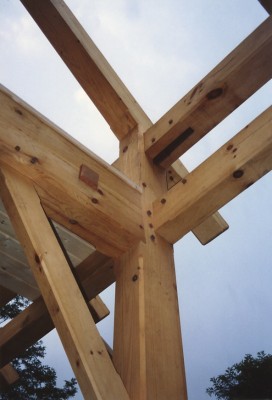 After the project settled down and I paid off the lumber bill and my credit card for some tools and rigging I bought – I ordered something I'd always dreamed of having – a proper, well fit, road bike. I had met a local shop owner, so I had him size me up and do a fit, and they ordered from my childhood hero's bike company.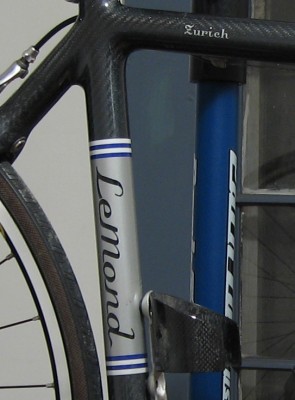 To be continued…