In the midst of the holidays in 2004 I sorted through my belongings and began organizing and packing for the move to Vermont. I shuttled quite a few of my tools to Ohio, where some of them still reside in my parents garage, or in use at Chris' studio. I donated my Raleigh Technium to the Rochester Zen Center (complete with an added rear rack and pump), sold off some of my rigging and staging, and put everything else into boxes. The holidays that year were spent shuttling to parties at family and friends houses in the Cleveland area – lots of driving back and forth on the NYS Thruway. A few days before the new year I picked up a UHaul trailer and loaded up my belongings in Canandaigua. I moved into my apartment the day before New Years eve, and Greg came down to help me unload. We hit the pub up the road when we finished, and I crashed for a long long sleep late that night. The following day I went to a New Years Eve party in Montpelier, and began 2005 settling into my changed life.
In moving to Vermont a few things were important – a job that offered some creative outlet, reasonable pay (I took a hefty salary and benefits cut), and a beautiful place to live. The last item was pretty easy to figure out. Pretty much anywhere that you land in VT is a short walk, ride, or drive from beauty. The first two proved a bit more challenging, but things worked out. I settled for about $10k less in salary, and a drop in benefits, but I figured I would make some of that up in consulting and freelance work. The town of Putney (population ~2,624 as of 2000) would become home. A small farmhouse apartment, down the big hill on River Rd. Horses and barn out back, a pub within walking distance that had a nice row of single malt, and about ~8 miles from where I would be working in Brattleboro.
My first few months in VT were filled with exploration – both of my new geography, and of my mind and inner self. I had local topo and road maps pinned to my kitchen wall and I was still meditating regularly. I spent lots of time sitting in my small apartment – it had great light, and felt cozy and comfortable. I didn't have much in the way of furniture – my old architectural drafting table served as my kitchen table, and my meditation cushions served as my chairs and couch. I spent lots of time reading – texts about natural building, meditation, bicycle touring, adventuring to far off lands. I didn't have a phone (cell only) or internet connection, and I have been TV free since about 1997. As part of my morning ritual of coffee getting before work I discovered the Putney Food Coop's community bulletin board. The bulletin board became my 'Oracle' – if I wanted something to do, something to explore, something new to experience – I'd often find it while standing in the cold sipping my morning coffee. Over the time I lived in Putney the the board pointed me to a book group exploring 'Voluntary Simplicity', a Council Circle training workshop weekend, a map to the Putney Mountain trails, a poster that connected me with the Brattleboro Area Natural Building Group (I would later present at one of their meetings), a position on the town of Putney's Conservation Commission, and lots, lots more. I also became more involved with the Timber Framers Guild – helping to organize a portion of the conference that was to be in Burlington the next fall.
Looking back through my archived blog and website (a very old, hand coded www.mikebeganyi.com) I read short entries of long hikes in the snow, skiing to Hamilton Falls near Jamaica State Park, snow shoe trips around Killburn Pond in Pisgah St. Park in New Hampshire, and general winter fun. I pulled the Yeti out for a few rides down to the dirt road portion of my road, and made first contact with the good folks at The West Hill Shop for an xc ski tune up and general scouting mission.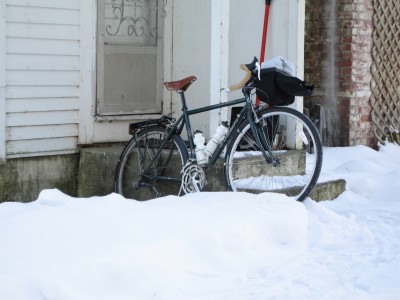 The Trek 520 got lots of love that winter. I used my spare bedroom as an office / bike room. I had it mounted in the trainer – I was building a base as I had plans of riding that summer all over Vermont, as well as commuting to work – so I could leave my truck parked as much as possible. I took some very cold and meandering rides in the early spring up to Saxtons River, through Westminster West, over to New Hampshire, and up Route 30 to Newfane. Riders of the VT 400k will know those names – my 'formative' years cycling in Vermont were on some fine roads in the southeastern corner of the state.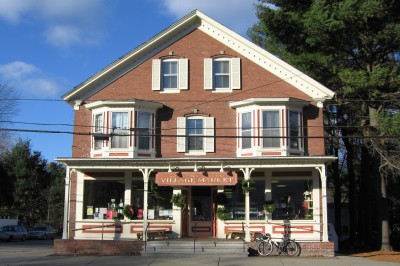 As spring ended I ventured up Rt. 30 from Brattleboro for my first 'long ride' on the LeMond. 50 miles or so, with a lower stem position that I was playing with in the trainer. Rt. 30 is pretty tame – wide shoulders between towns, slow speeds as you pass general stores, a flea market, a few schools, and an abandoned ski area as you follow the West River. It is generally uphill from Brattleboro – and I made the ride from Brattleboro to Townshend, just before the terrain pointed up to Stratton, a 'regular' ride. After some success with my new position on the bike, I took it to the shop to have the steerer cut and was introduced to the owners and lead mechanic, a meeting that would plant seeds for a friendship that would develop over my time in southern Vermont.
Somewhere along the way after about six months or so I started taking on more consulting work and I started talking about a more formal relationship with the folks I left at New Energy Works. We developed a plan for me to work to develop their New England market, with me acting as consultant, rain maker, network builder, modeler, and jack of all trades. I drifted away from my VT employer, although I still offered consulting support for the systems I setup. I began doing design, engineering and sales development for New Energy Works clients, as well taking on my own small projects.
I needed a place to work and meet the occasional client, as well as setup a laptop, some flat surfaces to review drawings, and a place to hang my shingle. I could not get high speed internet at my apartment – so I searched out some office space, and found a lovely location in 'downtown' Putney in the historic and renovated tavern. I called the phone number on the sign, and spoke with a guy name Peter (before he was Governor) about leasing the space. We came to terms, and I opened up a small office above the Front Porch Cafe and a small bookstore. I was across the street from the town pizza joint and the Putney diner, across the side street from the general store, and shared a parking lot with the town offices, a print shop, and yoga studio. All about 2 miles from home.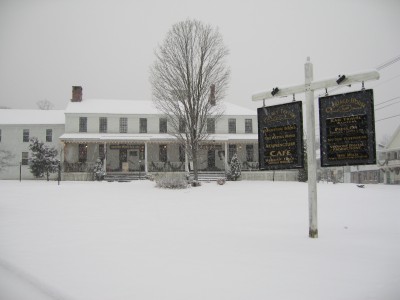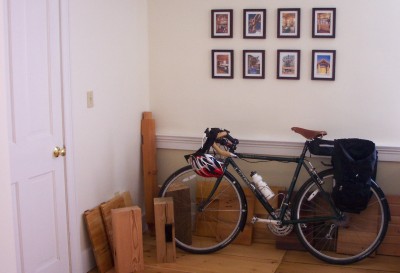 As I was developing New England clients, I was also 'the single guy' who liked to travel. I bounced around the East coast, down to Virginia, Pennsylvania, out to Kansas, and started to look at the Salt Lake City environs. I started to make regular SLC trips – I would fly on nearly empty planes in the ski off season from Bradley, and always try to book and extra day for exploring. I loved Park City and the surrounding terrain, and with trips becoming a regular occurence for business development, I even considered renting a cheap apartment in SLC – someplace to stash a bike, maybe some skis, and have a home base out west that wasn't in a Holiday Inn Express. In the end breaking into the old boys network with an entrenched Mormon business culture proved just about impossible, regardless of how many architects and builders I would visit and develop relationships with.
Back East things were starting to move and work out on the business front, and I even broke my 'singles streak' of 2 years by somehow figuring out that I could meet people and began dating a woman I met in a Brattleboro bar. Yes, I know this should fall into the bad idea category, but I stuck with it for a bit, until I had enough of the randomness and the drunkeness and the partying and the helping to pay rent and the … pretty much all of it. I found clarity when I was pressured to make a choice between a nice bike ride or picking someone up at some random person's house where they fell asleep (passed out) on the couch from the party the night before.
I worked out what the right choice for me was, and it had 2 wheels.
To be continued…