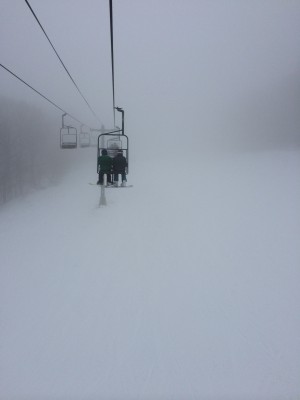 I've been skiing a very light backcountry touring setup all winter at Smuggs. Boots are Scarpa T4s (2 buckle touring boots), bindings are Voile 3 Pin Cable, skis Madshus Epoch (185s… way long for anything but breaking trail and touring!). These skis have a pattern on the bottom – so are a little slow on the gentler terrain – but great for chasing the kids around.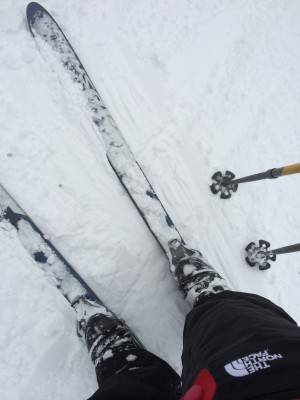 I've worked my way up to some blue trails off the top of Sterling and Madonna, including some rougher terrain connecting the mountains. It has been an interesting journey – long, relatively skinny skis with simple bindings and low boots. My technique has improved 100% or more since December. Still learning to ski through chop and mixed conditions – when the snow is groomed and firm, or fresh (up to about 4-6″) I feel very comfortable. When its really deep the skis want to dive right in, and when there is hardback with lots of fluff or chop across the slope I have to work really hard to stay upright. With the skis being so lite and flexy, changing conditions requires alot of body work and technique to keep an edge. So far I've enjoyed it all – but I can say after a full day my quads and calves and even my upper body feels like its had a good workout.
I could have used some bindings that release maybe twice this season – I took a couple of good falls on some steep, choppy snow. Feet stay connected – so I saw skis and sky over and over as I tumbled to a stop. No serious injury other than a tweaked ankle.