My 2012 Gen2 Salsa Fargo has gone through a number of changes, most recently swapping the Woodchippers (which I really like for dirt road / gravel / mild single track) to a Jones Loop bar, which so far has proven comfortable, and more capable riding rocky, rooty single track while loaded.
The bike is a medium and I'm running my old (pre-Revelate, long live Epic Designs!) front harness and pouch and seat bag, which were made custom for my Surly CrossCheck and IF Ti Club Racer. Once I got the Fargo I added a full frame bag, gas tank, jerry can, and feedbags. I have used the Salsa Anything cages, but don't run them often, except when I need extra carrying capacity, or want to carry insulated Nalgene bottles up front. I run a Shimano dyno hub to power an Exposure Revo and Redeye and need to wire up the USBWerk for topping off a battery or running my Garmin, and it will keep a FenixUC40 USB topped off. In testing the USBWerk works great, and I would love to have this integrated into my kit for longer trips.
Cockpit with Salsa Woodchipper (46cm bar)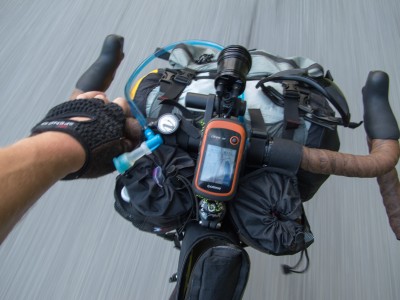 The updated cockpit is the Jones Loop bar with chunky grips (after some use I need to tape the rest of the bars). X9 trigger rear, Friction front, on a Paul Thumbie pushing a X5 triple derailer (cheap!). Garmin eTrex20, hydro tube connected to a Showers Pass Veleau reel (last way longer than the ID badge reels), feed bag (most times I run 2), Avid Speed Dial Levers (need to find something with the pinch bolt in a more comfortable location…). Gas tank with my Canon G12 and spare AA and AAA batteries. Custom harness and pouch made back in 2008 or 2009 for a dry bag.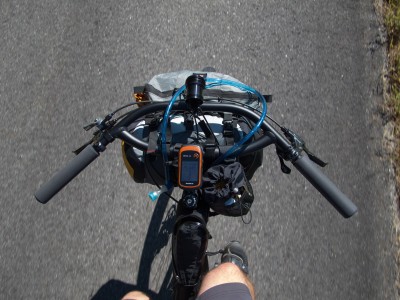 Front is my sleep kit and sometimes camp clothes tucked into a dry bag in harness. The dry bag pops out easily and gets tossed into my tent for unpacking.
Pouch contains personal items I might need easy access to – glasses, eye drops, meds, toiletries, first aid kit, etc.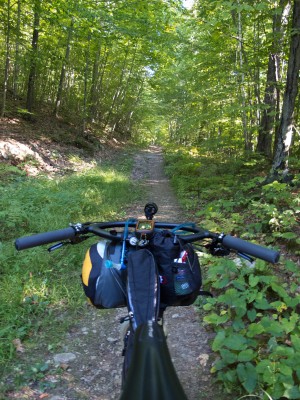 Rear bag contains tent, cook kit, clothes, food, etc.
Frame bag contains spare tube(s), tent poles, hydro bladder and Sawyer inline filter and misc stuff in the thin side pocket.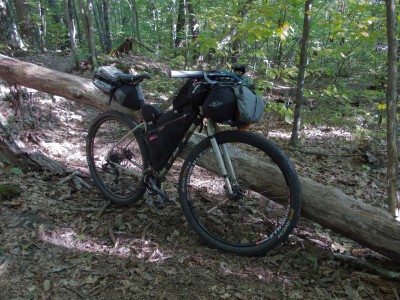 My current kit, for 3 season riding used last weekend:
(This is bordering on a luxury list for me… I brought a pillow – something that doesn't go on longer trips as I use the space for food / extra clothes)
(no food or water included in weights)
Fargo naked with Revo and Redeye lights, dyno wheel, etc. 29#
Fargo 35.2# with GPS, hydro hose, Revo, Redeye, Lezyne pump, and on frame bags as noted below:
On bike frame bags, feed bag, gas tank and jerry can 6.2#
Frame bag
Arm warmers, gloves, folding camp saw, knife, Fenix LD22 (for helmet, night riding headlamp), vest and woolie, tent pole, tent stakes, spare tube, empty bladder, sawyer mini inline with hydro bladder
Jerry can with tools, multitool with pliers, 1 brake, 1 shift cable (tucked into sides of bag stiffener), der hanger, patch kit, fiber spoke, tire levers, spare master link
Feedbag(s) with hand sanitizer (no food for weights, but generally my road food goes here)
Gas tank with Canon G12 camera and batteries (4aa and 4aaa)
Front harness and rear saddle bag 14#
Front bag 8#
Sleeping pad, sleeping bag, pillow!, personal stuff, water purification, toiletries, headlamp, showers pass crossover tucked into harness (need to change this – lost it after this photo)
Rear bag 6#
Tarptent Contrail, cook kit (Snow Peak 700 pot, double wall mug, fuel canister, Gigapower stove, matches, silicone bowl, Ti spork, bear line, carabiner, stuff sack), camp clothes (MUSA knickers, boxers for camp, Patagonia puffy jacket).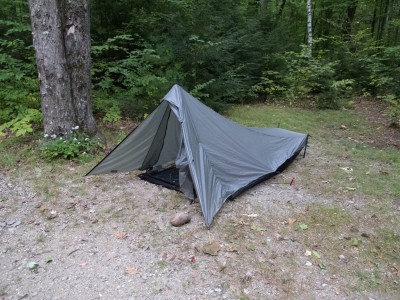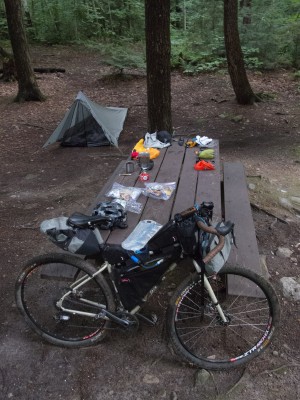 Total Kit without food / water 20.2#
Total rig without food / water 49.2#
On person – wallet, cellphone, SPOT tracker, cycling cap
Bikepacking List Fall (3Season)
Personal:
Glasses in case with cloth cleaner
Contact Case eye drops
Sunglasses
Maps / Cue card
Knife (in mesh in Feedbag)
Electronics:
GPS Garmin etrex 20 on bike
Camera canon g12
Batteries AAA and AA
Headlamp Princeton tec small thing
Fenix flashlight for helmet
Revo dyno headlight
Redeye dyno tailight
Meds:
First aid kit
Tums
Ibuprofen
TP
Shovel
Wipes
Lantiseptic
Tiny travel towel
Cook Kit:
Stove
Snow Peak Ti700 Pot
Snow Peak double wall cup (if 'luxury' camping…)
Ti Spork
Snow Peak Gigapower stove with Piezo ignition
MSR fuel canister
Bear (critter) bag and line with carabiner
Food:
As req'd
Hydration:
Water bladder(s)
Aqua Mira drops
Sawyer mini inline filter
Nuun tabs for flavor, electrolytes
Shelter:
TarpTent Contrail
Pole
Stakes
Sleeping bag big agnes fish hawk 30d down
Sleeping pad big agnes insulated air core
Bike Mech:
Tube
Patch kit
Tire boot
Tire levers
Pump
Multitool
Derailler hanger (if Fargo)
Brake pads (1 set)
Zip ties
Electrical tape
Chain Lube
Shift cable
Brake cable
Clothes:
Boxers
Dry gloves
Dry Socks
Patagonia puff
Rain pants or MUSA knickers
Showers Pass jacket
Thin ibex woolie
On body:
Cycling shorts
Socks
Shoes Pi x alps pro
Rapha jersey (got to be fashionable)
Thin cap
Helmet
SPOT
Wallet / iphone
Cycling gloves (if dirt road / single track)
Wil, Greg and I did a S36O to Silver Lake. Road, dirt road, trail, and single track to Lake Dunmore, then we found the Minnie Baker trail and connected to Chandler Ridge. We rode the ridge as the sun was getting low in the sky, and made it to camp at dusk.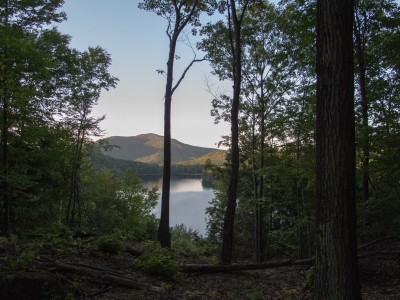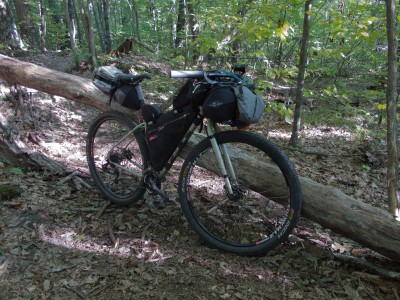 Our plan was to camp and then ride out exploring some VAST and MTB trails that connect up to Brooks Road and then ride the high dirt roads to Lincoln and Bristol. That plan changed when I realized I lost my brand new Showers Pass Crossover Jacket somewhere on the ridge trail. We checked my camera to verify I didn't leave it in the truck, and found a spot where we thought it might have ejected. I opted to leave it, not wanting to alter the trip, and I wasn't confident we would find it. The boys voted to not let my jacket remain lost in the woods.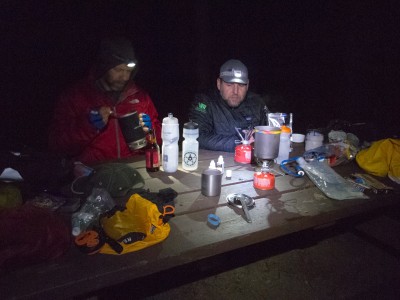 The change of plans had us riding more single track out – the Leicester Hollow trail. Wil move on ahead and ditched his camping kit and blitzed the south end of the ridge trail, back to where I thought I lost it. He found it far far away from where I thought it would be – but returned with it tucked into his jersey.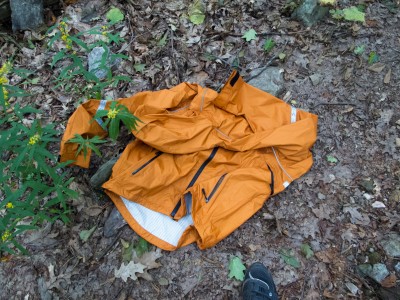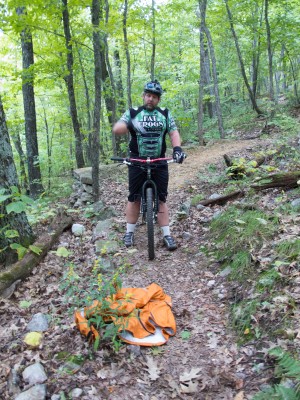 We then opted to roll into Middlebury for breakfast / lunch and not try to regain the high ground and ride our original route.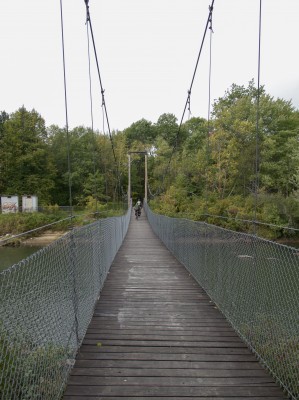 Even with the changes we had a great time. Covered ~74 miles with plenty of climbing, roots, rocks, dirt and a beautiful sunset.