I generally try to avoid rolling with a backpack for touring / bikepacking… but some trips call for carrying more gear, or having the ability to camel up with supplies. For most trips in fair weather I can make do with my Wingnut Hyper 3 if I feel I need more capacity than I can carry on the bike. I usually carry my personal stuff – wallet, phone, SPOT in the zippered pockets, and then ride food stuffed in the mesh. Extra layers that I might want quick access to ride in the body of the bag, and I can add food / water (I have carried an empty hydro bladder to top up on previous trips).
The Wingnut is small and it carries its load low around the hips. Its perfect for all day singletrack or hiking… but in use it is a stretch for anything longer when requiring any sort of bulk or capacity.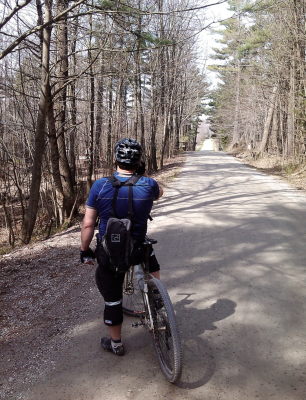 For my recent ADK trip I used an Osprey Talon 33. I've read rave reviews about this bag on blogs and bikepacking.net – and finally had some gear gift $$ to add one to my quiver. I am always skeptical of backpacks, but jumped in with both feet on this purchase, and loaded it up two days after purchasing it for my trip.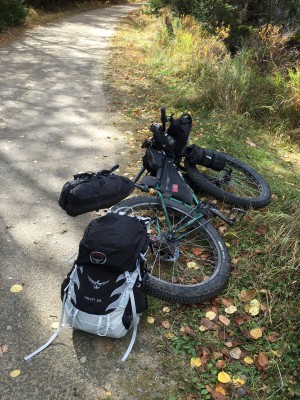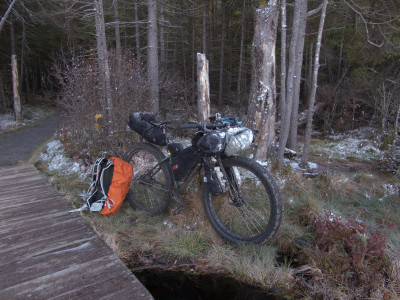 The pack is pretty simple compared to most 'technical' packs. 1 main compartment closed with a drawstring. 1 zippered top compartment with a key loop, and a zipper mesh pocket under the lid. Side pockets for water bottles (or other gear), a mesh stretch pouch outside the main pocket, ice axe loop, and various cords and straps for tightening and lashing the load. The simple hip belt has a small pocket on each side. The pack has an 'airscape' suspension system and is kept off your back with this mesh panel that supports the pack and rides on your back. Since this was a cold trip I can't say I tested this feature… but the pack was incredibly comfortable for the 3 days.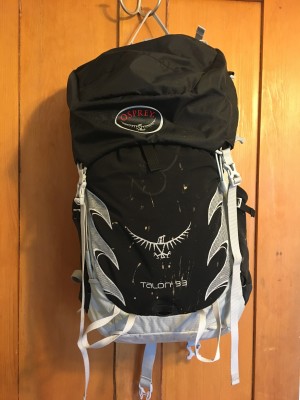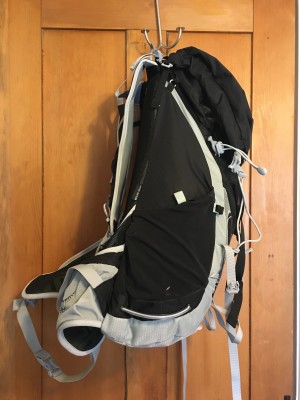 For my trip I carried food, my Patagonia puff layer, rain coat (when not needed as a wind break), rain pants, wallet, cell phone, USB battery, and spare riding gloves, buff, and a thin Ibex base layer. In the right side pouch I had bear spray, in the left side pocket I had my ZipShot tripod. I had plenty more room to add gear or food – I was probably running at 1/2 capacity. I added a Sea to Summit pack cover to keep things dry (and in orange, it hopefully worked as a marker to hunters that I was not to be shot at!).
My food was the heaviest and bulkiest item in the pack. I carried 3 backpacker style dinners – 2 for dinner and 1 for lunch. Breakfast was 2 days of oatmeal and pop tarts, ride food for days 2 and 3 (that would move to the bike each morning), coffee, and chocolate for camp. My pack got a bit lighter each day as I ate my way through my food.
On Day 2 I opted to lighten my bike for the first ~7 miles to make it easier to heft over creeks and blowdown, as well as a bit more nimble for the parts of the singletrack that I could actually ride. I moved all my camp clothes to the Talon, along with personal kit that usually rides in the Sweetroll Pouch (first aid kit, meds, glass case, etc.), and the 2 Porcelain Rocket Anything Bags that were riding on my forks. The left Anything Bag carried my camp kitchen (stove, fuel, cup, mug, bear bag gear, etc). The right Anything Bag carried my extra camp stuff – saw, fire starter and matches, leatherman, headlamp, etc. I also carried a zip lock of garbage from dinner and breakfast – food wrappers, the remnants of cleaning my bowl of oatmeal, toothpaste spit, and a spent backpacker meal pouch. I left my sleeping bag in the seatbag (pretty light, and out of the way) as well as keeping my tent and sleeping pad in my Sweetroll. The Talon swallowed the additional load and carried very well. I can't say I had any discomfort due to the bag on my back. Moving the extra gear to the bag was great on the singletrack – the bike was just a bit more manageable, and if needed I could drop the pack on 1 side of the creek and go back and fetch the bike, making life just a bit easier. Unweighting the bike worked well when I did get to ride. Having the weight on my back meant I could stand and position myself as normal, and the pack stayed put on rough sections.
After exiting the singletrack I rolled a few miles into town, where I decided to get a hot lunch at a local pub. I reorganized my gear under the awning of the pub – so I put more weight on the bike for the road and dirt road part of the trip. I also added some warm socks from the local department store and a newspaper. The Talon still had plenty of room for more if I wanted…
The Sea to Summit pack cover (sized small, 30-50 liters) I bought worked perfect. It kept things dry as it should and was easy to deploy when the weather turned.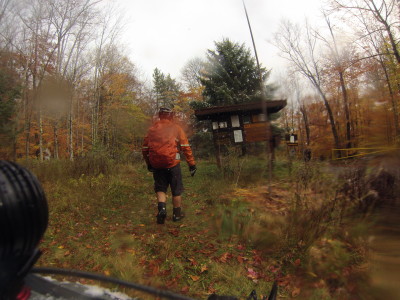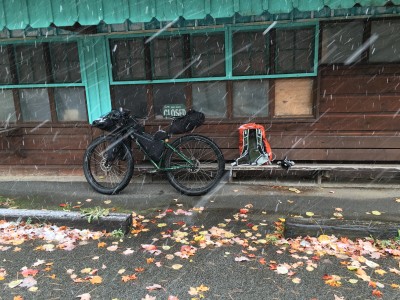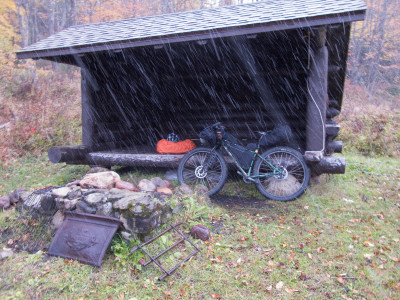 The Talon worked as expected on my first trip with it, and I've since used it for commuter like duties schlepping my laptop and gear to town and back, as well as for carrying a suspension fork to the shop (via some singletrack) to get cut down and a have a new star nut installed. Its not really ideal for a town bag (on off on off quickly like a messenger bag) – but its really comfortable with any sort of load, and will be my go to bag for day hikes (or summer overnights), as well as bikepacking when I need more capacity. So far I'm really happy with the bag. It proved itself carrying a varied load on a challenging (if short) trip, and its build quality seems typical of higher end gear (even though I thought the bag was reasonably priced, even if I didn't have a member discount at a local shop).