I've been fussing with the cargo bike in anticipation of some family adventures – the stock Yuba Mundo is a great town bike – but we needed more cargo capacity – so I swapped the front fork for a Surly Big Dummy Fork, and mounted their Nice Rack so I could carry my old Ortlieb panniers on the front low rider mounts. The rack is wide – so we had a platform for other gear, and in the future will strap an Ice Mule cooler backpack there. Nothing goes completely according to plan – so I had to fabricate a small aluminum bracket to get the fork and the rack to play nicely – but after some hand fabrication everything went together nicely.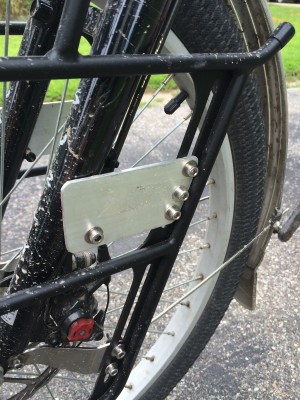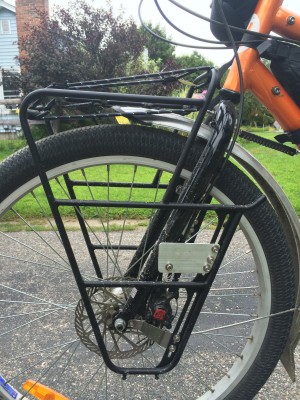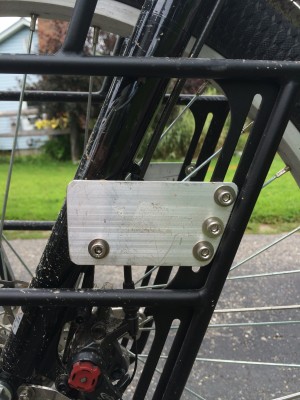 We needed a tent to fit 4 (for when Jen makes a trip with us) – but I didn't want to get a car camping anchor. After plenty of reviews and research I settled on the Black Diamond Mega Light with the Mega Bug liner. This is a pyramid style tent, with 1 pole, room for 2 adults and 2 kids and gear, or 4 adults – and the outer tent can be used for winter camping or as a kitchen / tarp stand alone. Under 8 pounds for a family tent. And it packs reasonably small for what it is.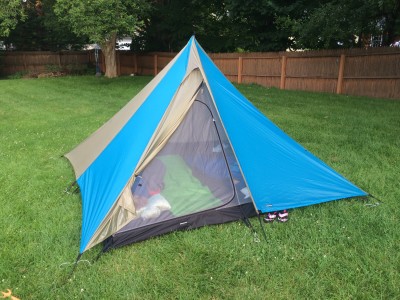 After Lina moved out of the pea-pod baby seat we had some concerns that she could fall off the bike (if she falls asleep, or we hit a rough spot on the road) – so I added the Yuba monkey bars. These work great… although they make towing Ava's bike more difficult, and the bike is really tippy when the girls climb over the bars getting on and off. We made a little step out of some rope and random aluminum pipe we found at the hardware store to ease getting on and off.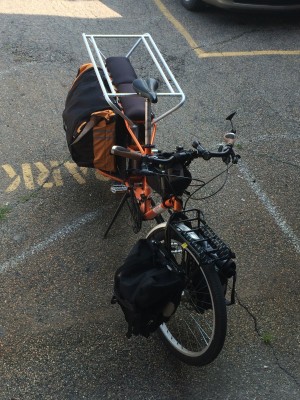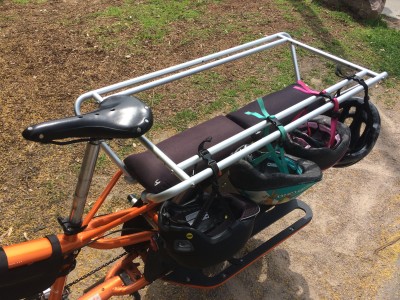 In order to carry all our gear I acquired a second Go Getter bag… these bags are huge – go on and off easily, and can expand and contract to adjust to the load. We've been using them for around town. I have been using one as messenger bag when we shop or head into lunch or swim lessons.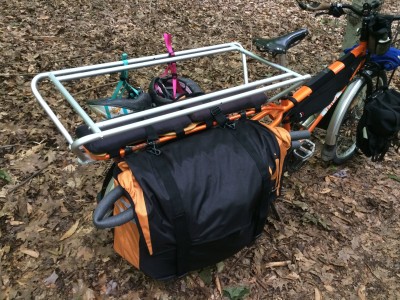 Loading up I gave each girl 1 Ortlieb rear pannier that carried their clothes, swim suit, sleeping bag, rain coat, and sweater. We strapped their sleeping pad through the Ortlieb straps on top of the bag. We brought Lina's life jacket that fit in her bag, and Ava's bag held the common toiletry stuff of the girls – toothbrushes, soap, sunscreen, medicine, etc. And the Uno cards. Both girls brought their headlamps.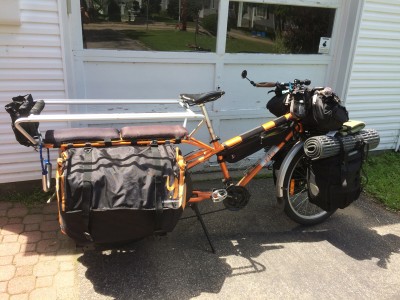 I used my Revelate Sweetroll for my sleeping bag, pad and clothes. This mounts to the handlebar. The pouch held things we might have needed on the bike – sunscreen, bug spray, sunglasses, some snacks, etc., as well as my personal items. On the front rack I had my Crazy Creek camp chair strapped, and my Quickshot folding tripod (never used it). On a longer trip we would have brought the IceMule cooler and strapped it here as well. In the Revelate Tangle bag I had my camp knife, pump, and a water bladder with hose strapped to a retractable line on the bars.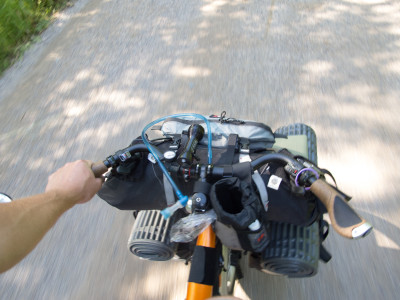 The big Yuba GoGetter bags on the back held tent, bug net, beach towels, blanket, food, small cooler, cook kit, bike kit (lock, tools, spares), and Nalgene canteen.
On the MonkeyBars I mounted each girl a Revelate Feed bag for their water bottles and snacks.
All in I think we had 440 pounds or more rolling down the road – dad + girls + bike + gear + food + water…