I know larger tires work against you when comparing rolling resistance, gear calculations, and overall effort… but since putting on the Kenda Nevegals I've felt like I've been riding with both front and rear brakes dragging. Sure, they certainly are not the 28s I ride on the IF, nor the 35s I used to ride on the CrossCheck, nor even the 42s I started with on the Soma…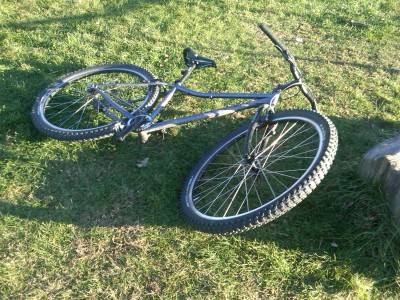 This morning I heard a chirping sound. Damn! I was dragging a brake. Cool. I can fix that. Except that even with the brakes wide open I still heard it. Then I spun the rear wheel by hand. I made it about 1/4 revolution before stopping. Bearings must be mal-adjusted. Picked up the appropriate sized cone wrenches, spun off the single speed side, and loosened. Nope. Bearings were shot.
Off to the internet. Plenty of instructions on removing sealed bearings from Surly hubs. These have served me for 3 winters… rain, snow, salt, dirt roads – pretty much everything. Pulled the axle. Tap tapped the bearing as instructed in lieu of a fancy bearing puller. The innards popped out and I now have a collection of tiny steel balls rolling around on the garage floor.
Which leaves the problem of how to get a sealed bearing race out of a hub shell. Dirt Rag provided the answer. I opted to not hammer the star nut from the opposite side, and instead applied a bit of finesse (in short supply at this moment in my caveman actions thus far) with a bolt and socket. Success. Now to wait for some new bearings – and to let the LBS pull the opposite side.