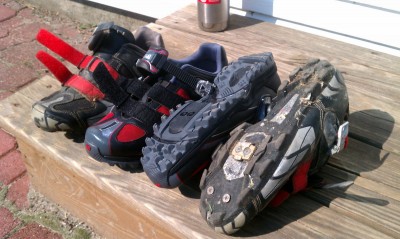 New sneaks arrived for on the Fargo and Pugsley. My Specialized shoes have finally given up, with the sole @ the cleat pushing into the bottom of the shoe. Looks like they are delaminating. 5 year old shoes, ridden in mud, snow, rain… I really can't complain. I opted to replace them with some Pearl Izumi X-Alp pro shoes. Carbon sole that is supposedly good for hike a bike… I would have gone for another comparable pair of the Specialized shoes – but they have a very stiff sole now, and a local rider told me they are great for on the bike, not so good for even short off the bike pushes.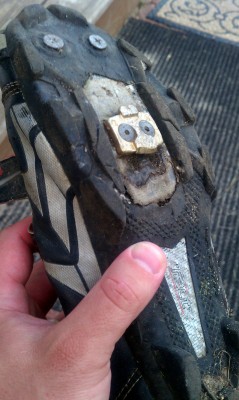 And then I found this (for the Enduro model) and this. Kurt's plug pretty much sold me on the shoe. He's currently out front on the Tour Divide.
In other news I snapped the hanger on the Fargo. Hit something, and glad I didn't shift into the spokes. New parts (and a spare for my kit) are on the way. On a separate morning I went over the bars – perfect wheel swallowing divot coming off some roots.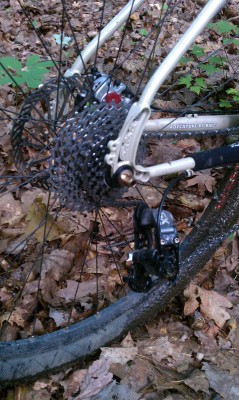 Next week I hope the continuing fatigue is gone, hoping to start a formal training plan to take me into the fall. Will be the first time I've done any specific training since burning out when I hired a coach back in 07.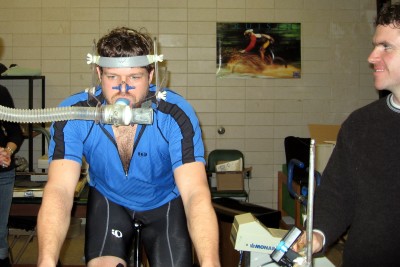 After the burn out I didn't ride for nearly 8 months. Looking forward to it, as I think I've got the largest base in place in a long long time – but need to knock a few more pounds off the body and step up the intensity for climbing. (hmm, when I migrated over from Blogger it seems I lost all my pictures on previous posts… sad…)