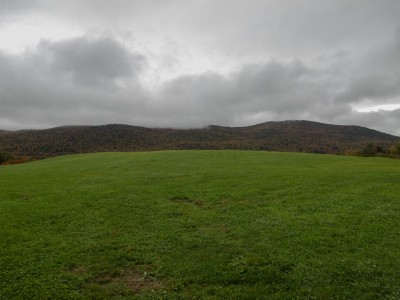 We had 40 riders start the VT Fall Classic last week. And, as a rider from Washington DC pointed out, it seems that it will not be a true 'classic' unless the weather offers up a challenge.
I rode the short course with friends, and in my haste as organizer I DNF'd before I even left the parking lot. My hot pink brevet card was sitting on the counter at the Old Spokes Home, where I was staging sign in and registration. Realizing this at the first control I accepted my fate but still enjoyed the ride. Any day on a bike is a good day, regardless of speed, time, and finishing status.
It has become harder and harder for me to write about this course and this ride. I developed the original route as a personal 'birthday ride' for myself over the course of 3 years, initially started during a time when my wife and I were adjusting to being new parents, and dealing with residual medical issues. There was alot of adjusting and pain (mental and physical) in those days, and my riding time plummeted from previous years. Getting on the bike was a gift, but one with the stark realization that my fitness was gone – and riding dirt roads with steep grades over long distances was something I was going to need to really work at – which continues to be an ongoing process.
After a few unofficial, non event scouting missions of both halves (there are almost 2 distinct north and south rides tucked within the long course) I launched the first official RUSA event in collaboration with the NERds to great weather and good roads in 2010. We've since grown the number of riders, tweaked the course and controls a bit, and have had rain and cold at some point during the rides ever since.
The 2012 edition proved promising from the start. A large contingent of riders converged on Burlington from ME, MA, VT, NH, NY, Washington DC. I ran into Lovely Bicycle! and her troupe on Saturday afternoon as they were exploring the Old Spokes Home (the start and finish of the ride), and I met up with more riders later that evening at a very crowded Farmhouse Taproom. Small groups were able to sit together and share food and drink, and eventually folks parted ways to rest for the late(r) (7am this year, instead of 6!) start.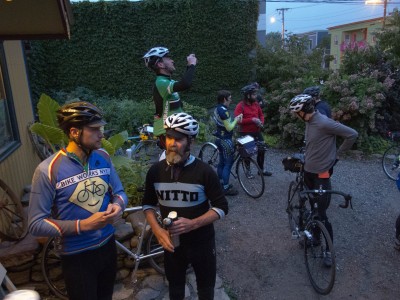 Sign in went smoothly. We had quite a few folks who showed up 'day of'. Hank Stokes volunteered at the start and finish (Huge Thanks to Hank!) and made sure everyone got off to a good start, and was at the finish with hot coffee and pizza. Bikes ranged from a few carbon racing machines, some classic and classy steel rigs, modern Indy Fabs (Ti and Steel), a couple of Rawlands, a pair of Velo Orange, and I think we had a mountain bike. We also had a rider complete the long route on a fixed gear.
At 7am I sent everyone off, and a small group of us left a few minutes later. The route rolls out of town, where eventually the road turns up, and we start to mix in dirt. I drifted between a few sets of riders near the back of the group, and enjoyed the morning fog and fall color, as well as the company of friends from Maine. I spent much of the day with Greg, who convinced a friend to ride – although he thought he signed up for our Cafe Cruise… a much different experience than the Classic.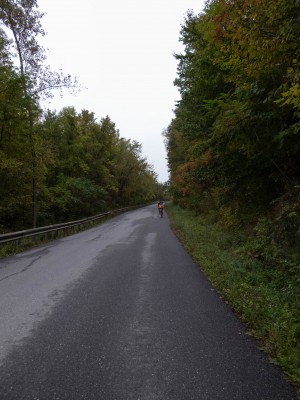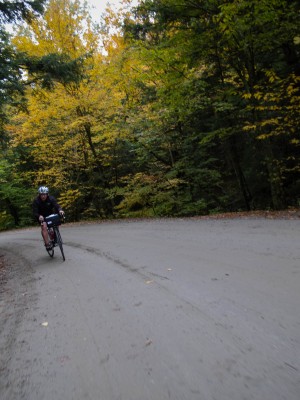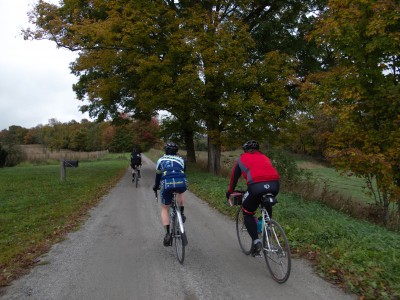 For our little group, the rain held off until just afternoon, as we left our stop at the Village Cup. We covered the last ~22 miles in various stages of downpour and solid rain. At some point I got separated from Greg and others, and after soft pedaling and standing under an oak tree I just couldn't wait any longer as I was getting cold – so I finished solo. I was about 7 minutes out of the time limit, had it mattered. I changed into dry clothes, wolfed down some hot coffee and pizza, then got picked up by the wife and girls, so I could snag our car. I made it back to Old Spokes, relieved Hank from volunteer duty, and waited and welcomed 200k riders in from the wet.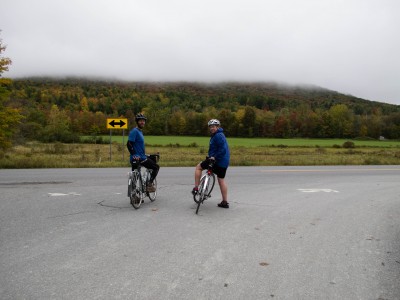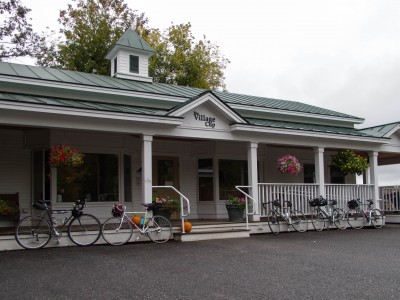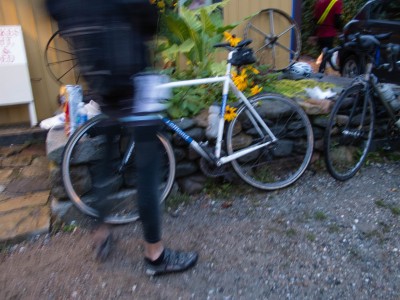 Despite the rain everyone returning was pleasant and had smiles on their faces, many excited that they finished, and offering compliments on the course. By about 7:15pm we had accounted for all riders, and for the first time ever running an event I was able to get home early.
40 starters (50, had all that preregistered been able to make it)
10 riders officially finished the 123k route within the time limits. Another 4 finished after the cutoff. And 3 of you finished on time but walked off with your brevet cards, or didn't turn them in…
12 very wet riders finished the 200k route.
Be sure to check out the Old Spoke's Blog, Dave's report, Lily's report, and Lovely Bicycle!'s (pending) report and photos.