I've wanted to share my bikepacking / camping experiences with the girls for some time… and we finally made that happen last weekend. We planned a 2 night trip, but Ava was keen on not skipping out of her theater camp a couple of days early – so we did a 1 night trip to a nearby state park. We covered ~20 miles the first day from home to the state park. Most of the trip was on the Island Line trail, which is our local lakefront multi use path. The balance was on quiet dirt roads, with a couple sections of pavement.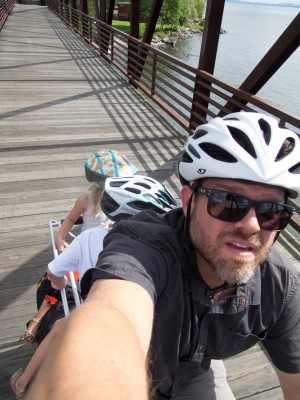 We took the Local Motion Bike Ferry to continue on to Grand Isle, and stayed in Grand Isle State Park. Its a typical tent / lean to / camper / RV style park on Lake Champlain – so this was a 'suburban' style camping excursion. I picked a lean to / tent site that was isolated from the other sites. We used the lean to for cooking and hanging out, and slept in our tent.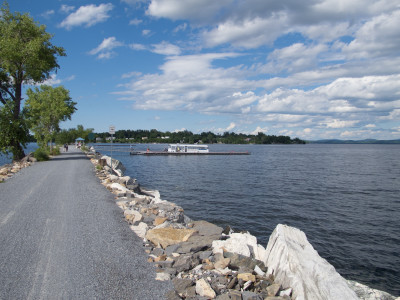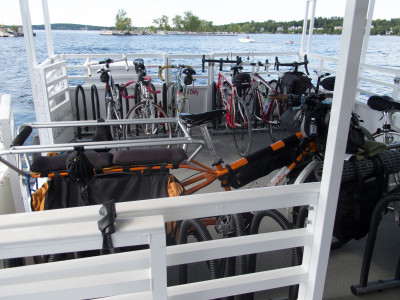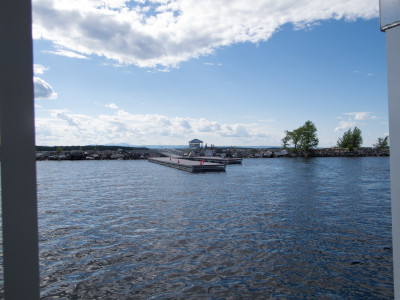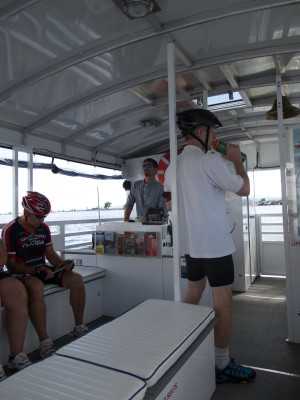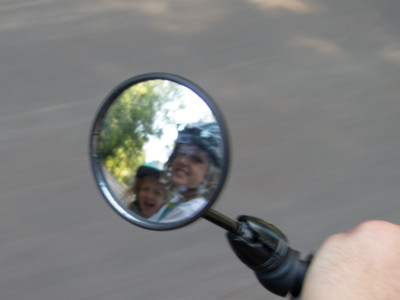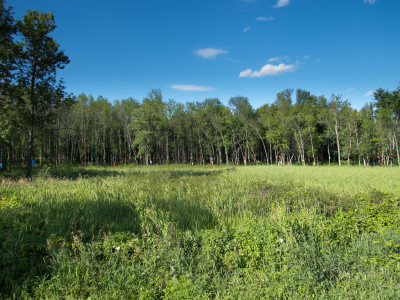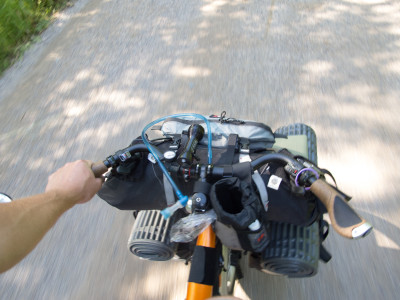 We played in the park a bit before dinner, and while I cooked the girls ran back and forth to the drinking water spigot to top off our water and fill up the Sea to Summit Kitchen Sink (which worked great!!).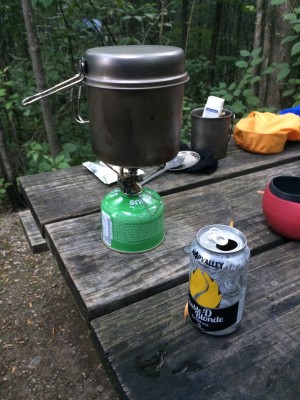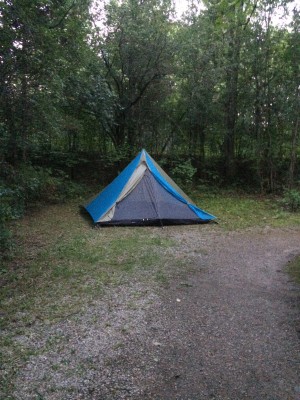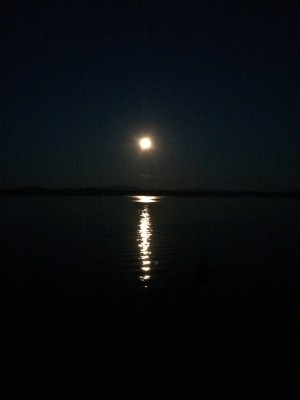 We ventured out after dark to take in the blue moon over the lake… and then tucked into bed for the night, where we had a good rain storm (my seam sealing worked!).
I attempted to make pancakes for breakfast while the girls played cards (hard to make pancakes in a tiny Ti pan… next time I'll bring my older, larger cook kit). We then packed everything up, took a short swim in the lake, and headed home.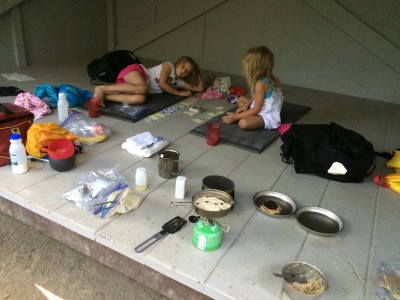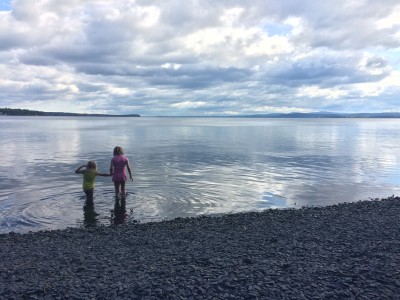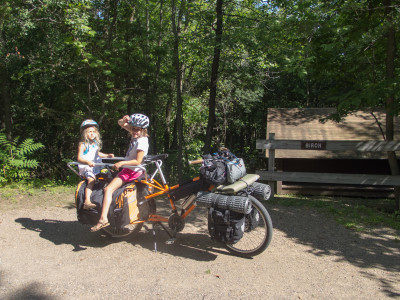 The trip home turned into a mini adventure. At our snack spot we heard thunder, and the girls asked me to 'drop the hammer' to get us home. I rode as hard as I could muster with 440 pounds of bike, gear, kids and dad rolling down the road… and we outran the storm by the time we got to the ferry….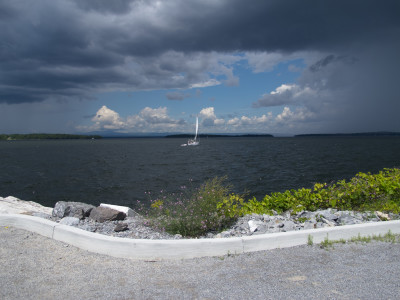 …only to get stuck waiting for the next boat as the next wave of lightning and thunder rolled over us.
The girls were nervous and a bit scared, but we got away from the docks and few trees on the causeway, sat on our sleeping pads and hugged while snacking. The boat finally made it back and we all got on to sit out the wall of water and the front that blew through. Once the weather settled the ferry disembarked the original passengers, and we loaded up our bike for the final ~6 miles home. We were dry in our rain coats, but got splashed by the wind driven waves and lingering showers for a bit. After about 20 minutes the sun came out and I ditched my coat to cool off.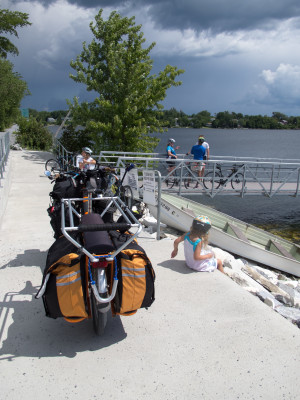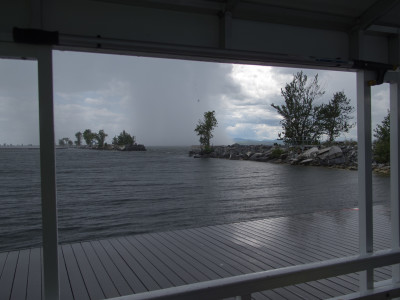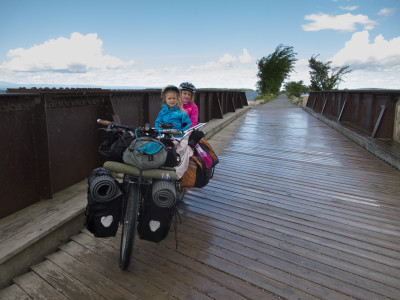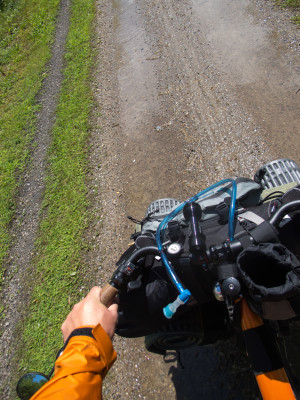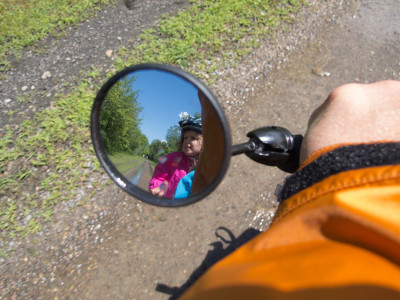 I'll add another post with all the gear and bike geek stuff…